Rosé Champagne
Processing rosé Champagne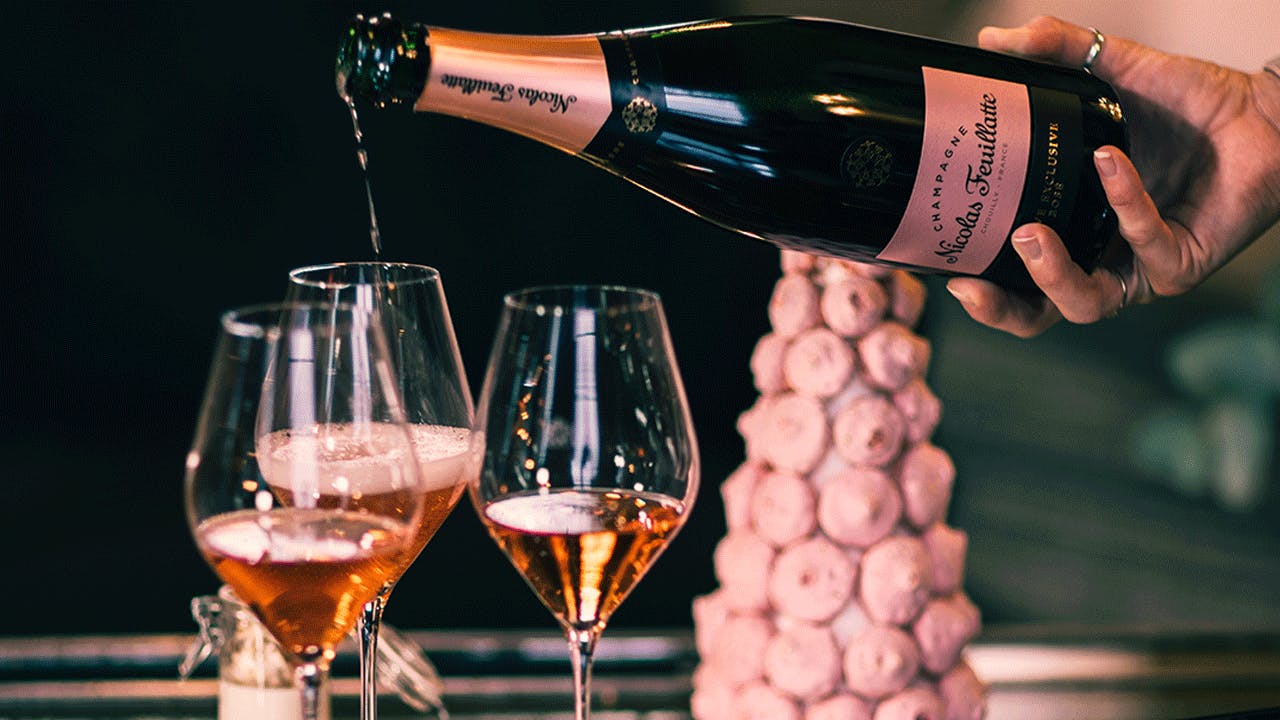 In the Champagne region, there are two authorised methods for producing rosé champagne, by maceration (rosé de saignée), or by blending white and red wine.
"Saignée" rosé
What is a "saignée" rosé, also known as a "maceration" rosé?
A short maceration of whole bunches of Pinot Noir grapes from Les Riceys or Bouzy (used to make the prestigious Palmes d'Or Rosé) is carried out to extract a small amount of colouring (turning the juice pink) before pressing. The winemaker "bleeds" the vat, before removing all or part of the lightly coloured juice, which then goes through the traditional "méthode champenoise" process. These champagnes are reputed to be more flavourful and reflect the craftsmanship of the oenologist and the quality of the grapes.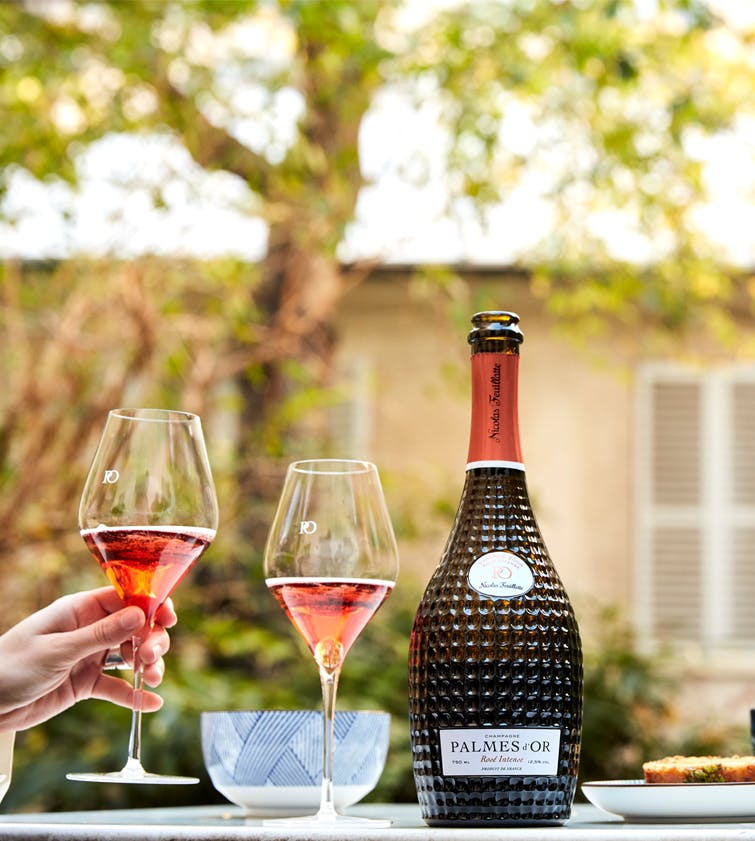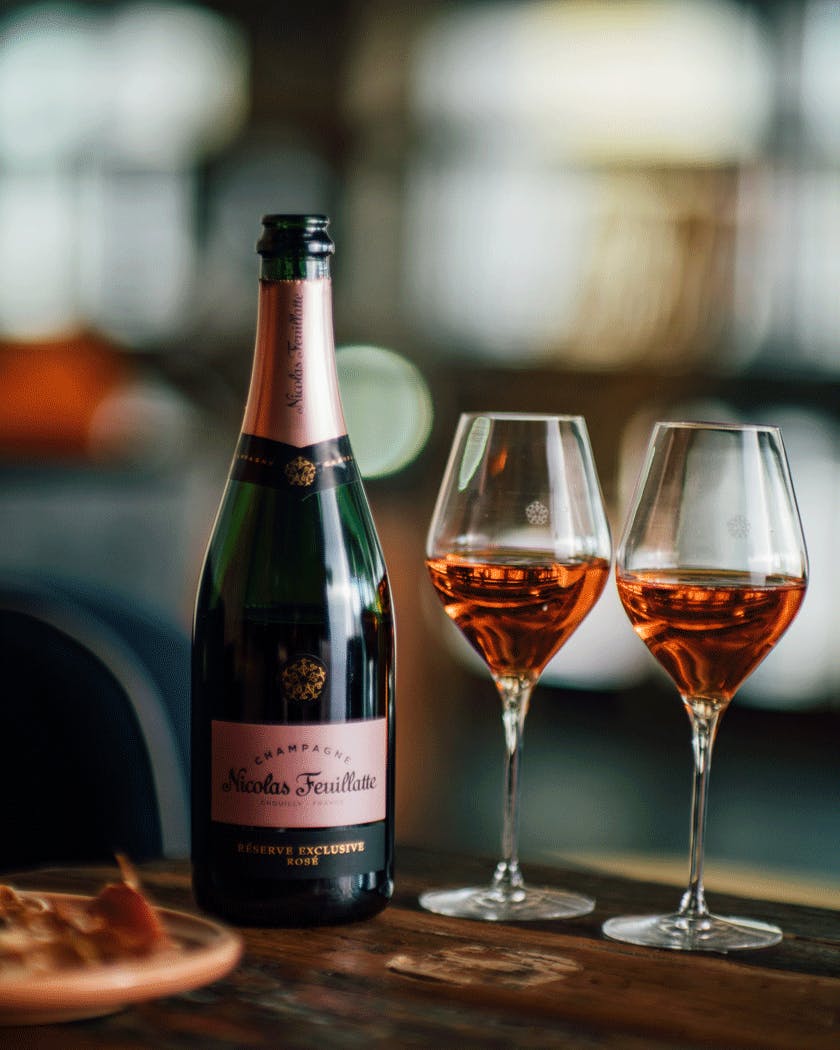 Rosé d'assemblage (blended rosé)
What is a rosé d'assemblage (blended rosé)?
Champagne is the only wine-growing region in France that allows red and white to be blended to obtain rosé. That's is why we talk about "blended" rosé. The red wine from famous vineyards that produce red AOC champagne is added to the still white wine before bottling, The proportion of red wine is determined by our cellar master and depends on the desired aromatic characteristics and colour.
This mixing takes place before the bubbles are formed (before the "second fermentation" in the bottle), basically, before the Champagne is Champagne.
Although rosé wines are often served as an aperitif, the richness of the Nicolas Feuillatte range of rosé champagnes offers an exceptional range of tastes that can accompany an entire meal, even meat dishes. This diversity also allows Nicolas Feuillatte wines to be served on many occasions throughout the year.
There's a Nicolas Feuillatte rosé Champagne for everyone!
Réserve Exclusive Rosé
Whatever the moment, there is always a rosé champagne that is right for you: as an aperitif, just for pleasure or to enjoy with a dish.
Nicolas Feuillatte champagne has many surprises in store, starting with its Réserve Exclusive Rosé. This rosé blend contains 16 to 18% red wine. Its structure is fine and dynamic, its unmistakable, full-bodied flavours of redcurrant, blueberry and raspberry mixed with a hint of Gariguette strawberry make it a champagne that can be enjoyed all year round, as an aperitif or with light desserts.
It is a gourmet champagne with enticing and aromatic red berry flavours, to be enjoyed chilled as an aperitif, on its own or with salmon, tuna or shrimp appetizers, as an example.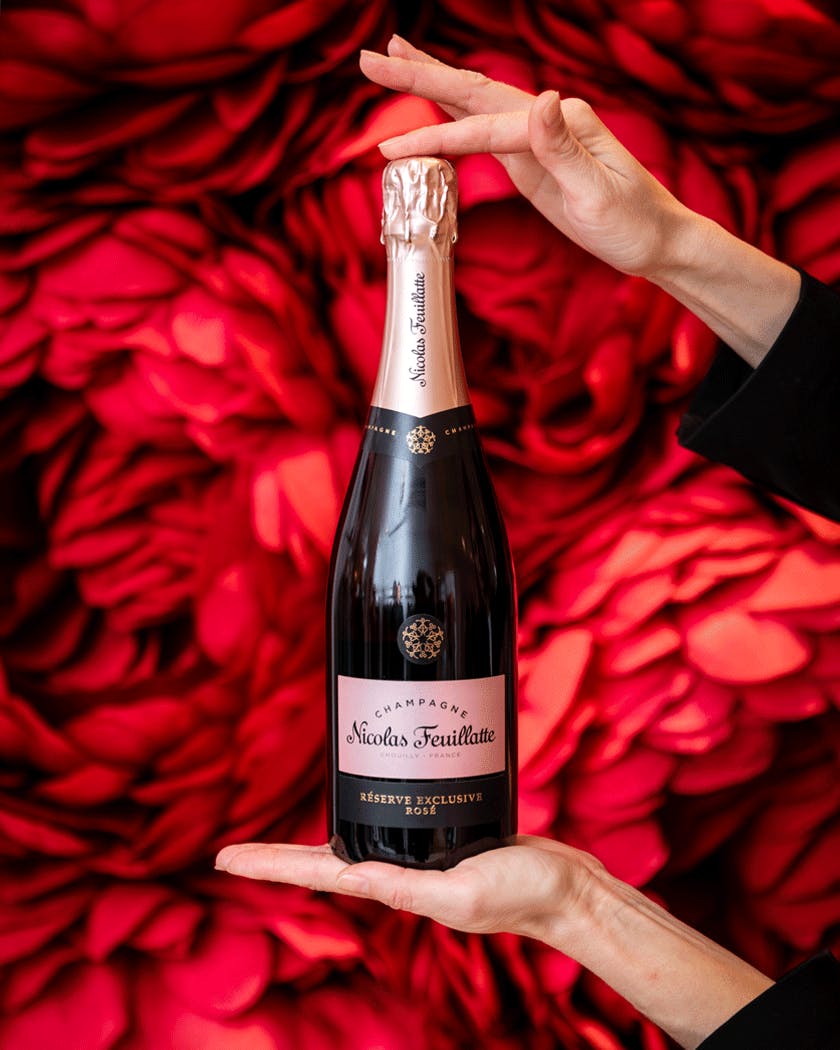 "The Reserve Exclusive Rosé has sharp notes of freshly picked red fruit, which are wonderful to crunch into." Guillaume Roffiaen, Cellar Master.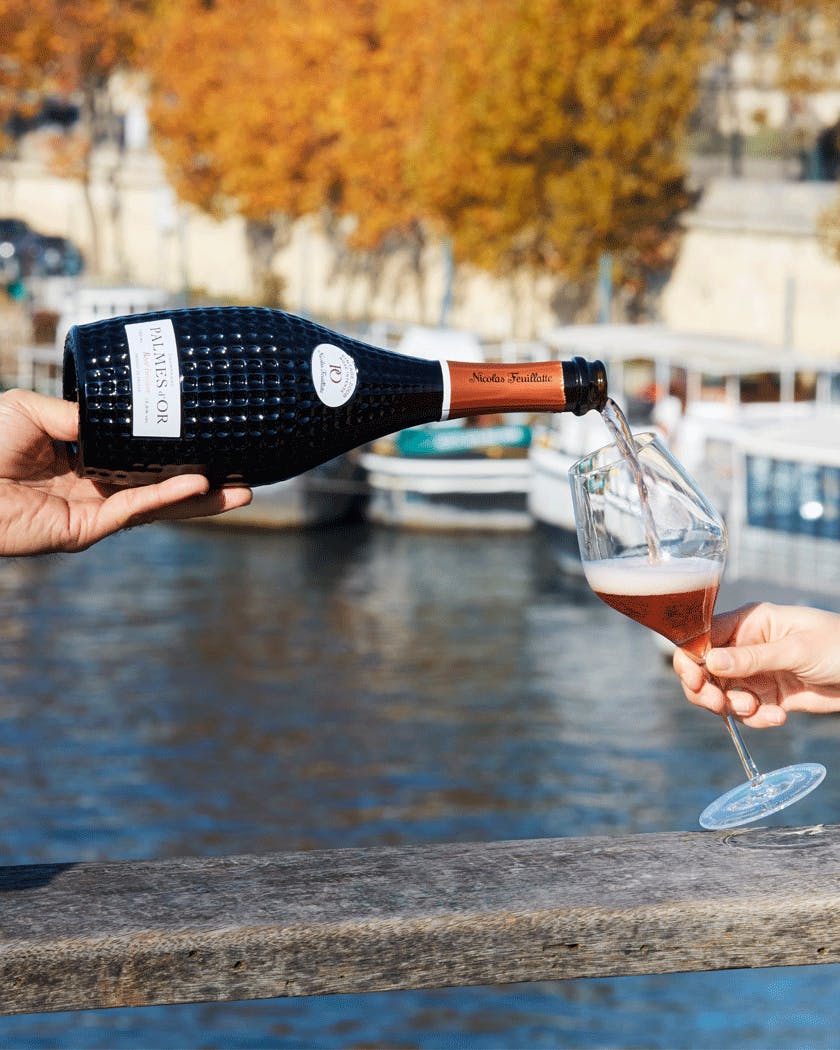 Palmes d'Or Rosé
The 2008 Palmes d'Or Rosé is a great champagne created for the table. Its production as a "rosé de saignée" gives it a beautiful complexity and a rich palette of red fruit flavours. Upon tasting, we find notes of rich and sweet kirsch cherry. The palate explodes with fresh, citrusy fruit. Intense and full-bodied, Nicolas Feuillatte's prestige cuvée strikes the ideal balance between the powerful and spicy Pinot Noirs of Bouzy and the subtly flavoured Riceys ones. The Palmes d'Or Rosé is outstanding with poultry in sauce, Kobe beef or salty flavours, such as sea urchins.
Rosé
Rosé selection
Discover Nicolas Feuillatte rosé Champagnes