Saïd Ben Belkacem
Nicolas Feuillatte ambassador
NF & Friends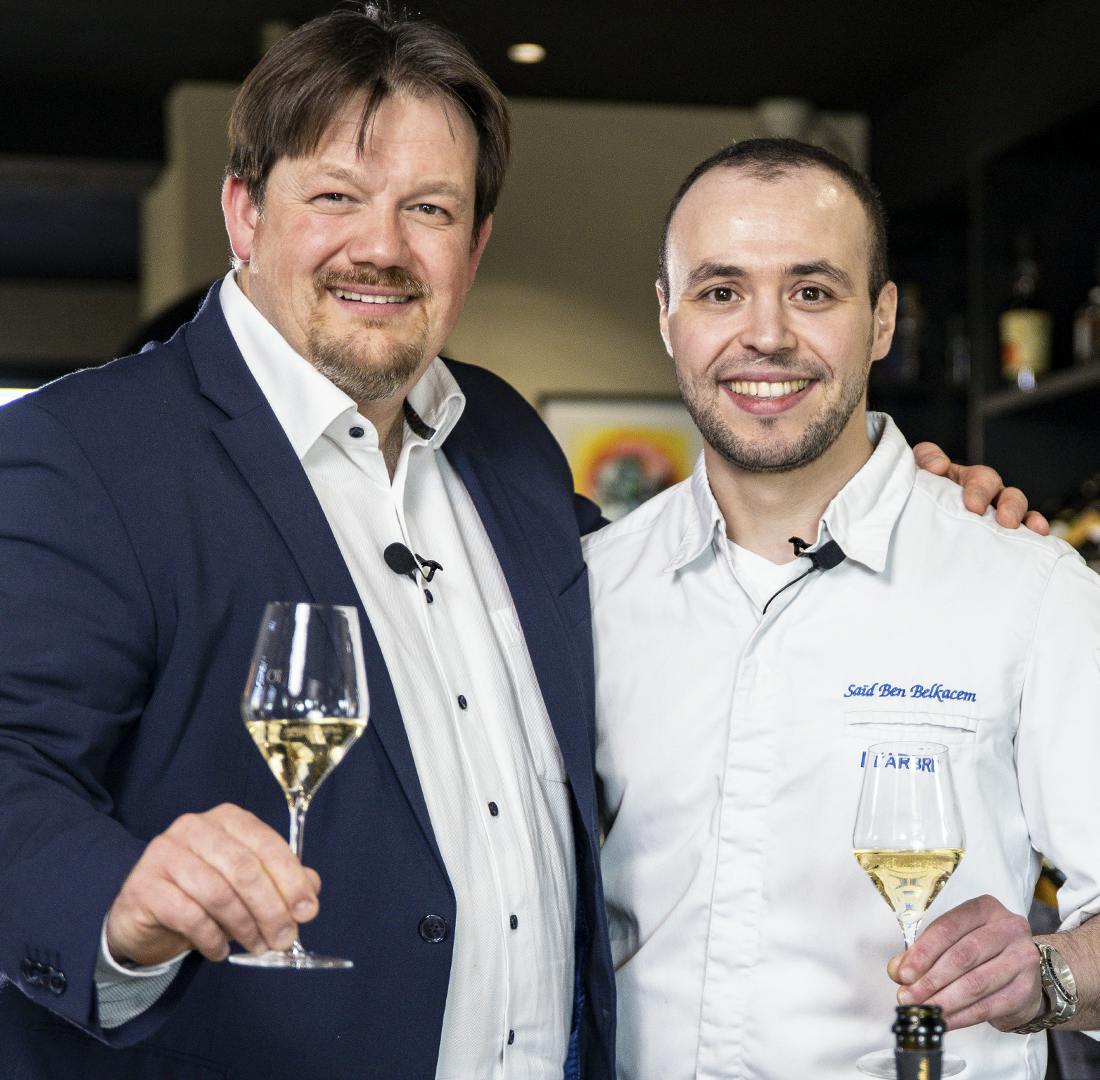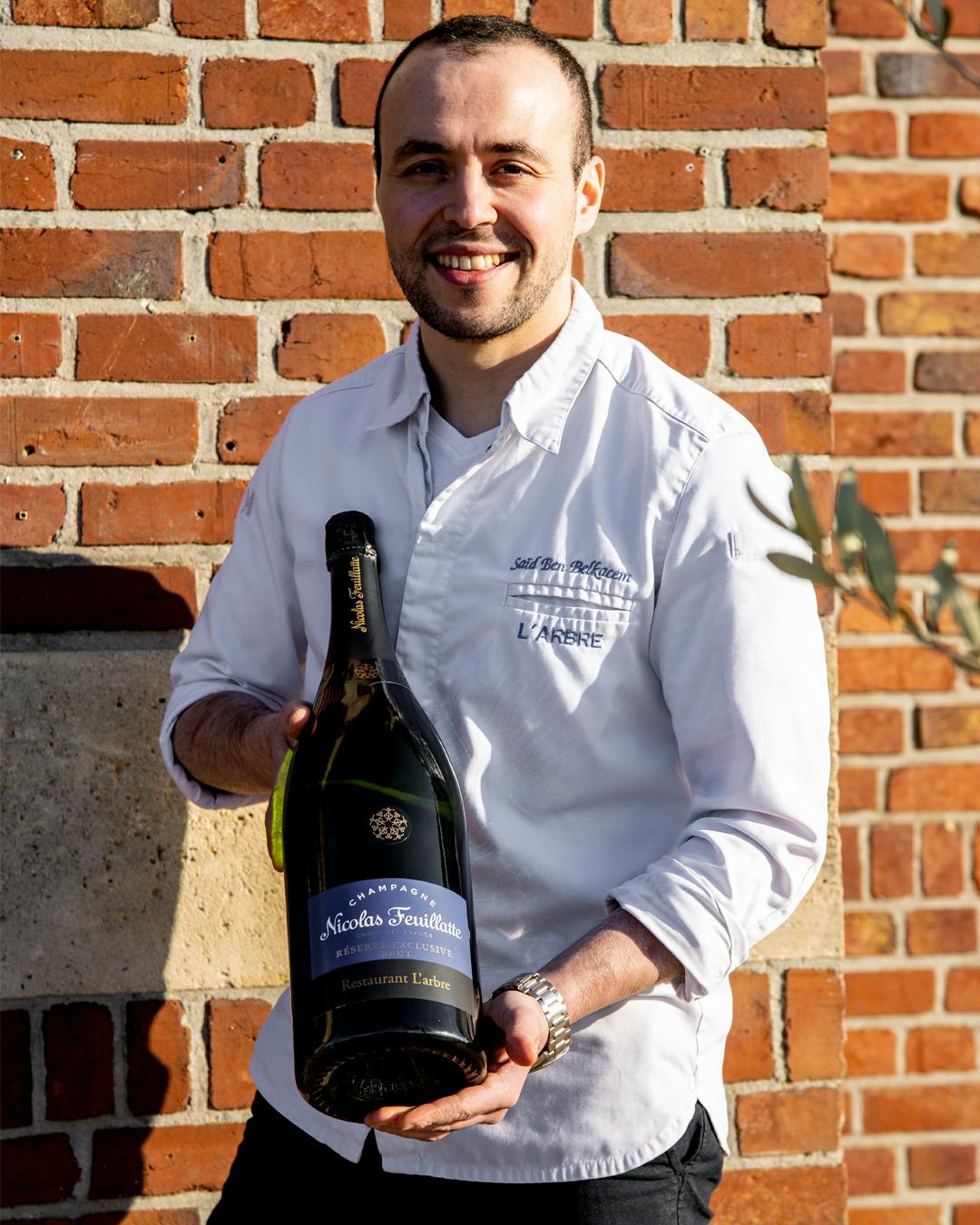 About
Saïd
Ben Belkacem
At barely 30 years old, Belgian-born Saïd Ben Belkacem is a passionate Chef who has worked in a number of prestigious establishments. Thanks to these experiences, he gained a good understanding of the rigour and demands of starred restaurants – for example, during his time at the Joël Robuchon restaurant in Monte Carlo (2 stars), and the Alain Ducasse restaurant at the Dorchester (3 stars) – before joining L'Arbre as Sous-Chef then as Head Chef.
Nestled in the heart of nature just 30 minutes from Lille, Saïd Ben Belkacem has transformed the "L'Arbre" restaurant into his playground. The restaurant is located in the rural town of Gruson, along the route of the famous Paris-Roubaix cycling race, where diners will be welcomed by stunning scenery.
Saïd Ben Belkacem, a Nicolas Feuillatte ambassador, is known for his inventive dishes and daring flavour combinations, such as chocolate and mushrooms, all whilst respecting the seasonality of produce. Our champagnes proudly accompany his creations!
The meeting
Saïd Ben Belkacem
& Guillaume Roffiaen
Our Cellar Master, Guillaume Roffiaen, went to Gruson to meet Saïd and discover his cuisine and food/wine pairings with Nicolas Feuillatte champagnes.
Watch the video of their meeting!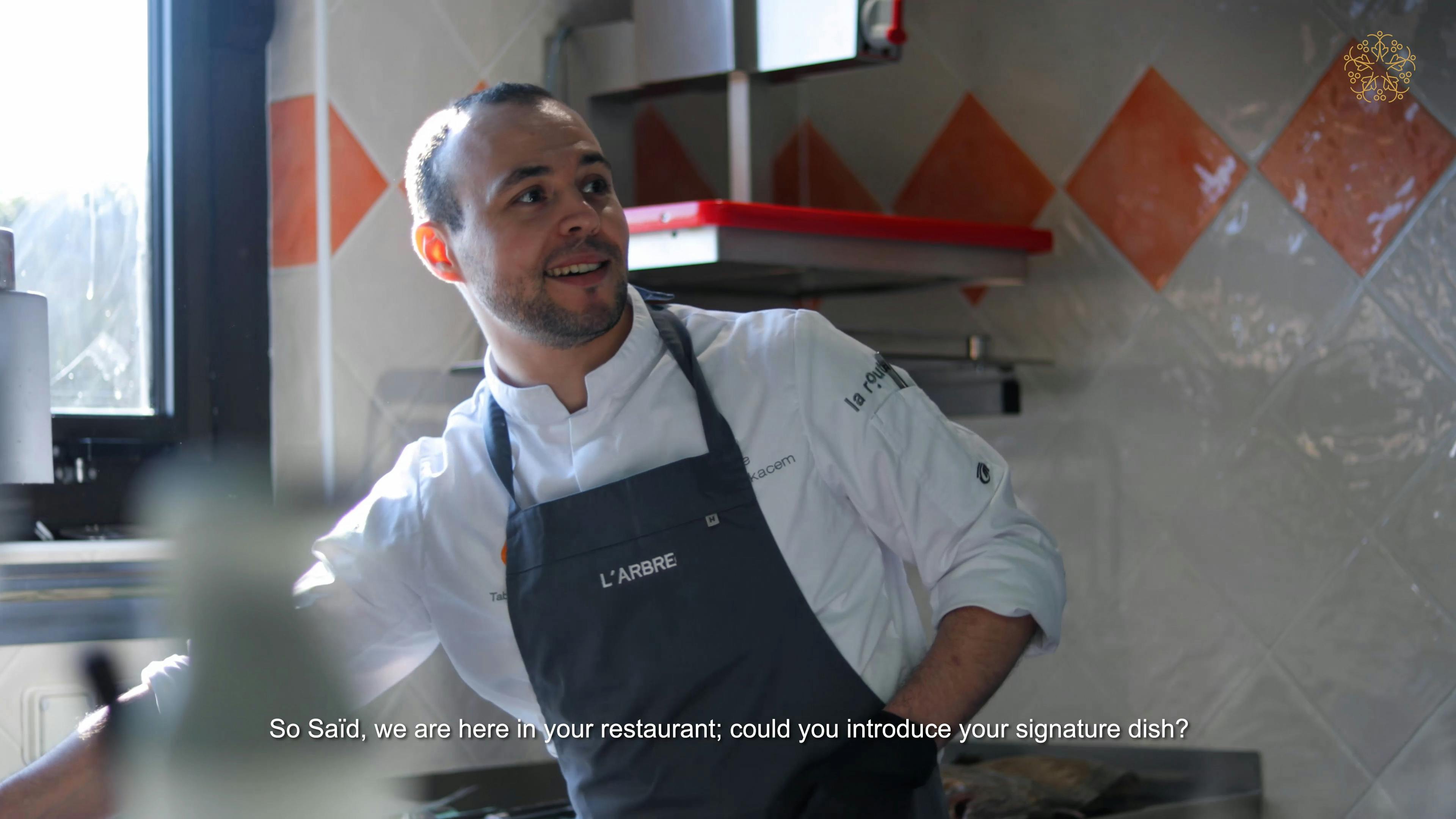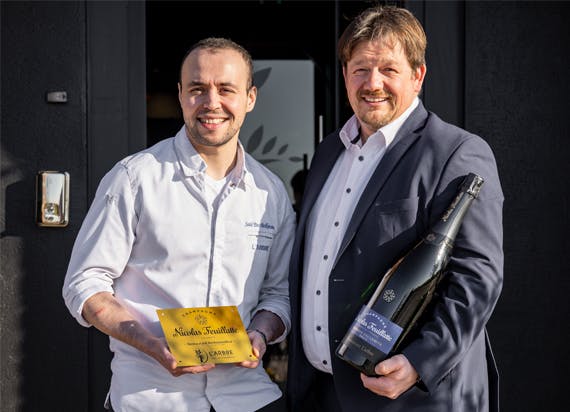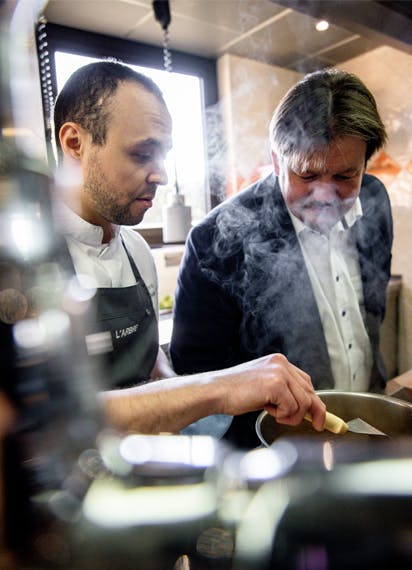 «I love my job; I wouldn't change it for the world»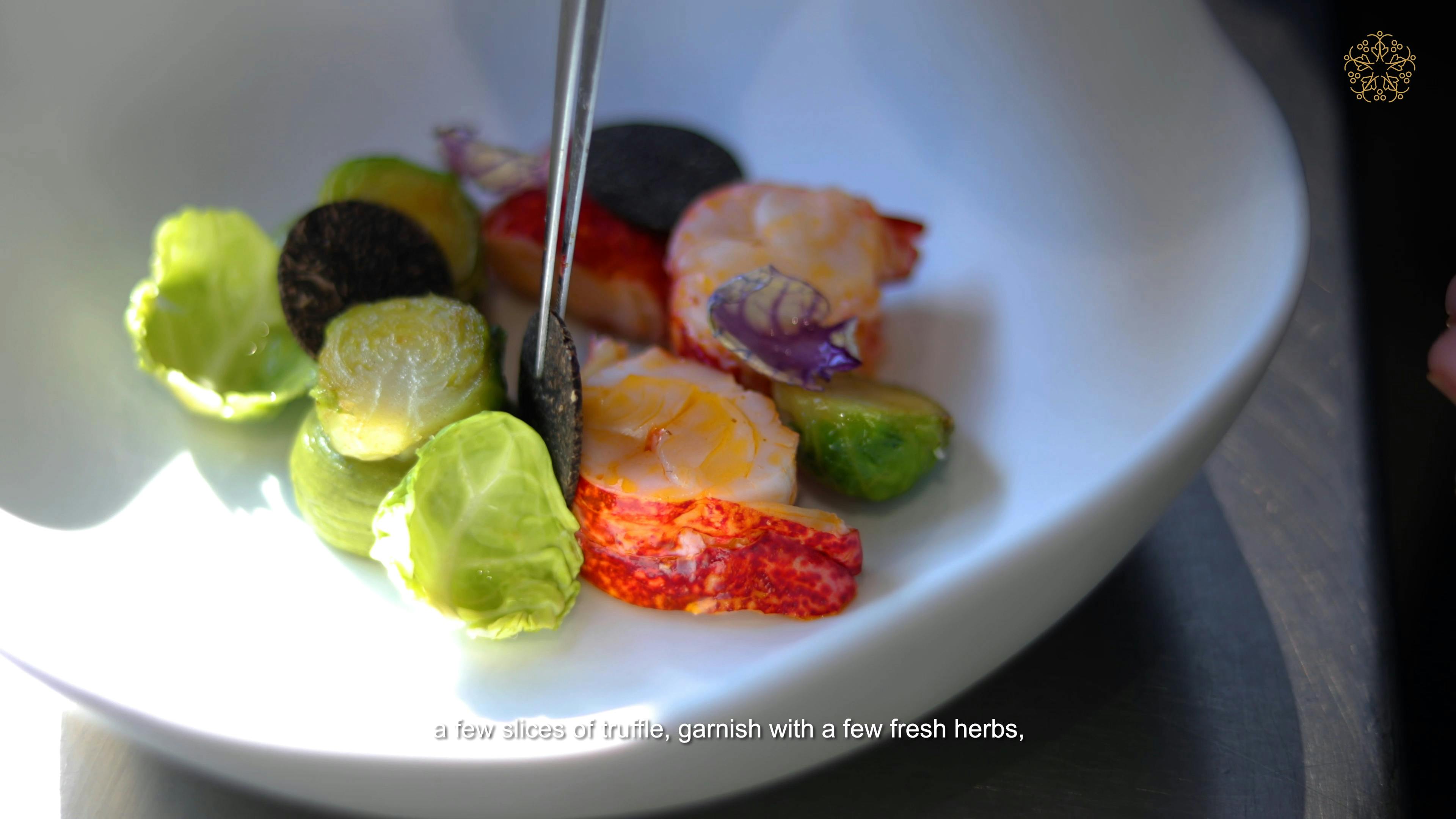 Recipe
Lobster
Brussels sprouts
Chef Saïd Ben Belkacem shares his step-by-step recipe for lobster and Brussels sprouts.
A signature dish, and the perfect match for our Palmes d'Or 2008 Brut!
"Good food is created from good produce, good cooking and a good jus"​
Lobster - Brussels sprouts
Palmes d'Or 2008 Brut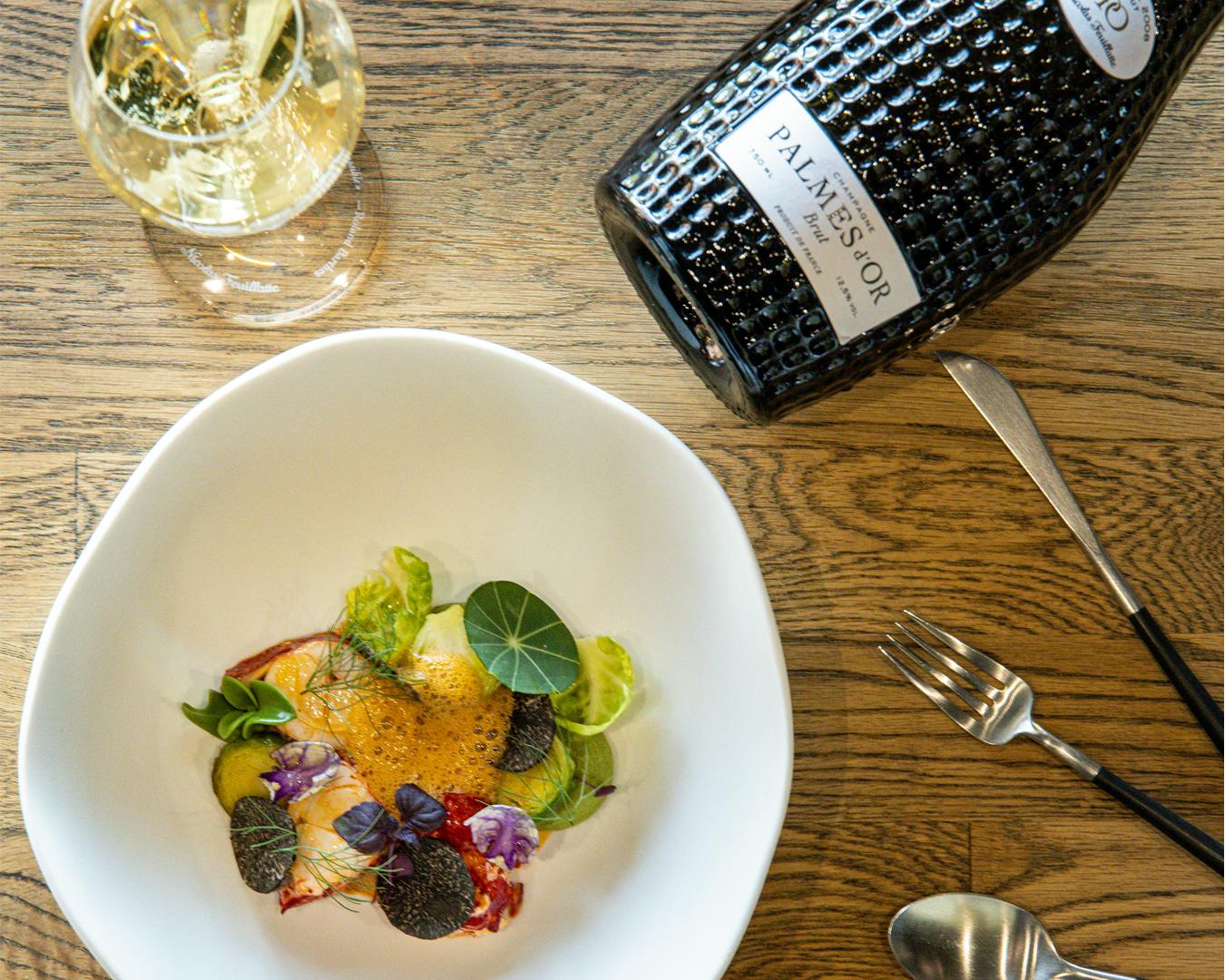 For 4 people
2 Breton lobsters weighing 500/600 g
1 fresh fennel
1 stick of white celery
5 shallots
2 cloves of garlic
250 g butter
20 cl white wine
5 cl cognac
Salt and pepper
1 stick of vanilla
1 tbsp of tomato concentrate
3 sprigs of basil
500 g Brussels sprouts
20 gr black truffle
Aromatic herbs
Method
Peel, wash and trim the garnishes. Cut some Brussels sprouts in half, blanch them and set aside.

Lobster:
Blanch the lobsters for 3-4 min in a court-bouillon, then cool them in ice water to stop them cooking. Once shelled, place the lobsters in warm lobsters butter and set aside.

Sauce :
In a frying pan, brown the butter, then add the carcasses and brown them. Cook for a few minutes, then add the tomato concentrate and leave to simmer. Deglaze with the white wine, cognac and 1dl of water, then cook for 20 minutes.
Strain and reduce to a thick sauce.
To finish, infuse the vanilla and basil.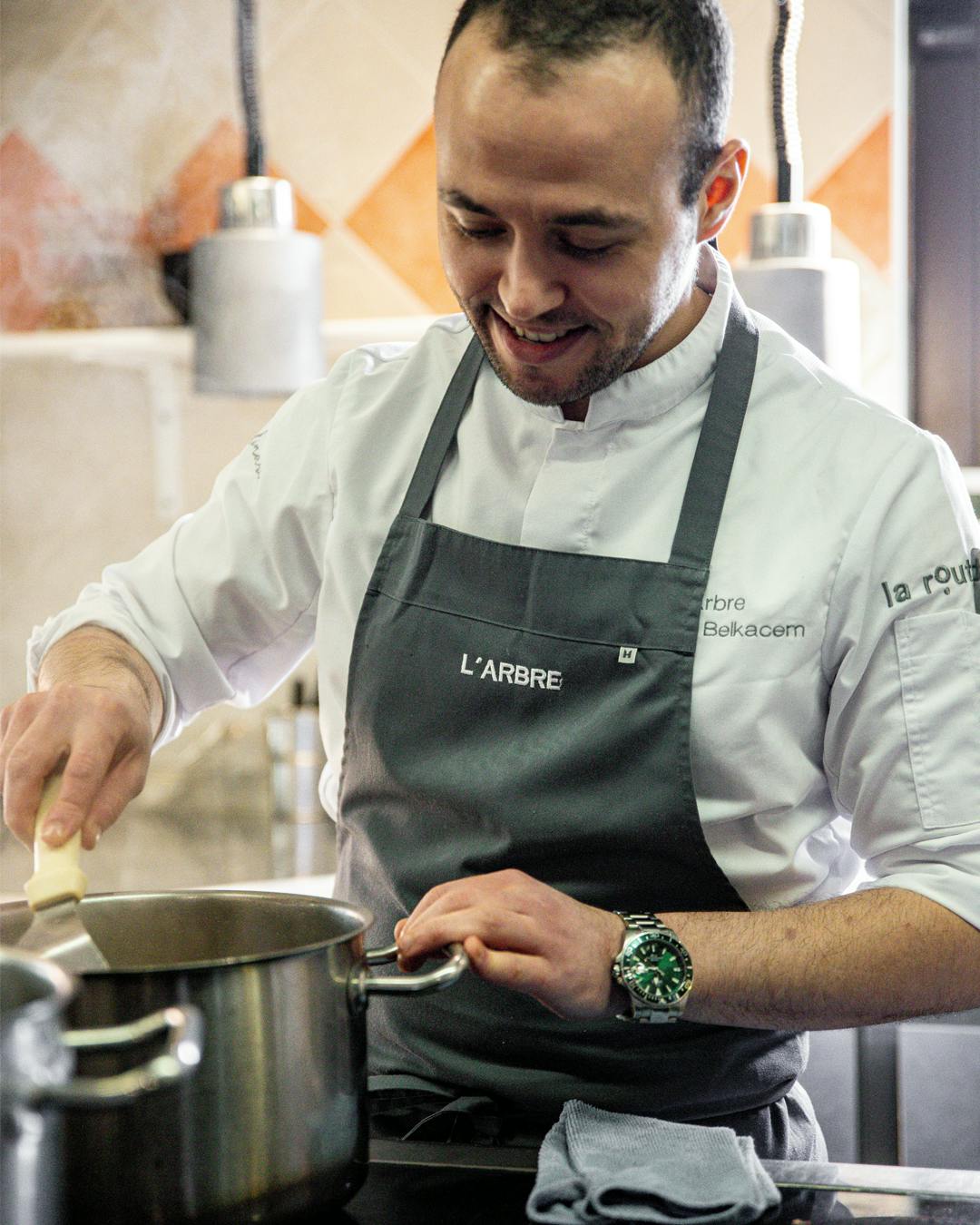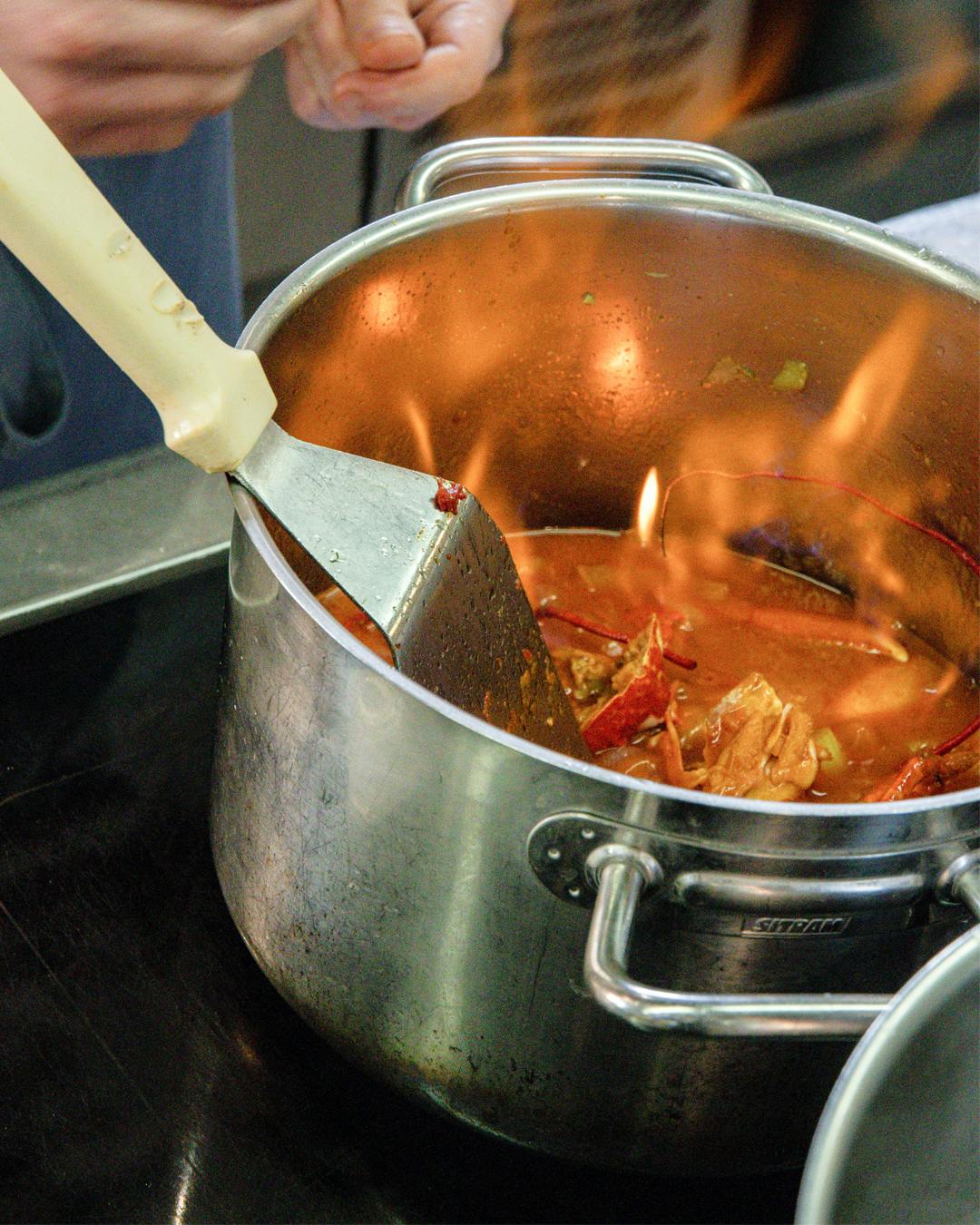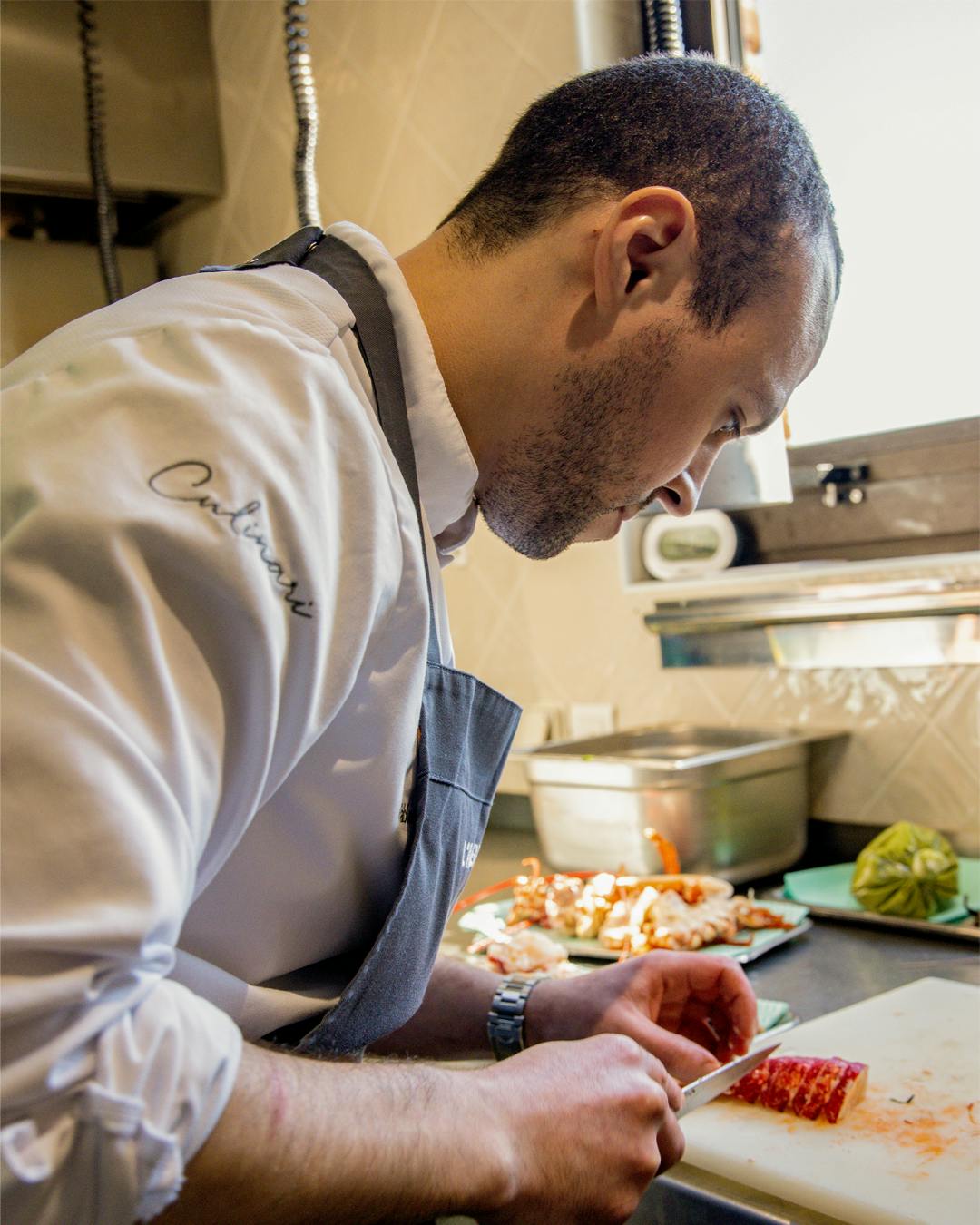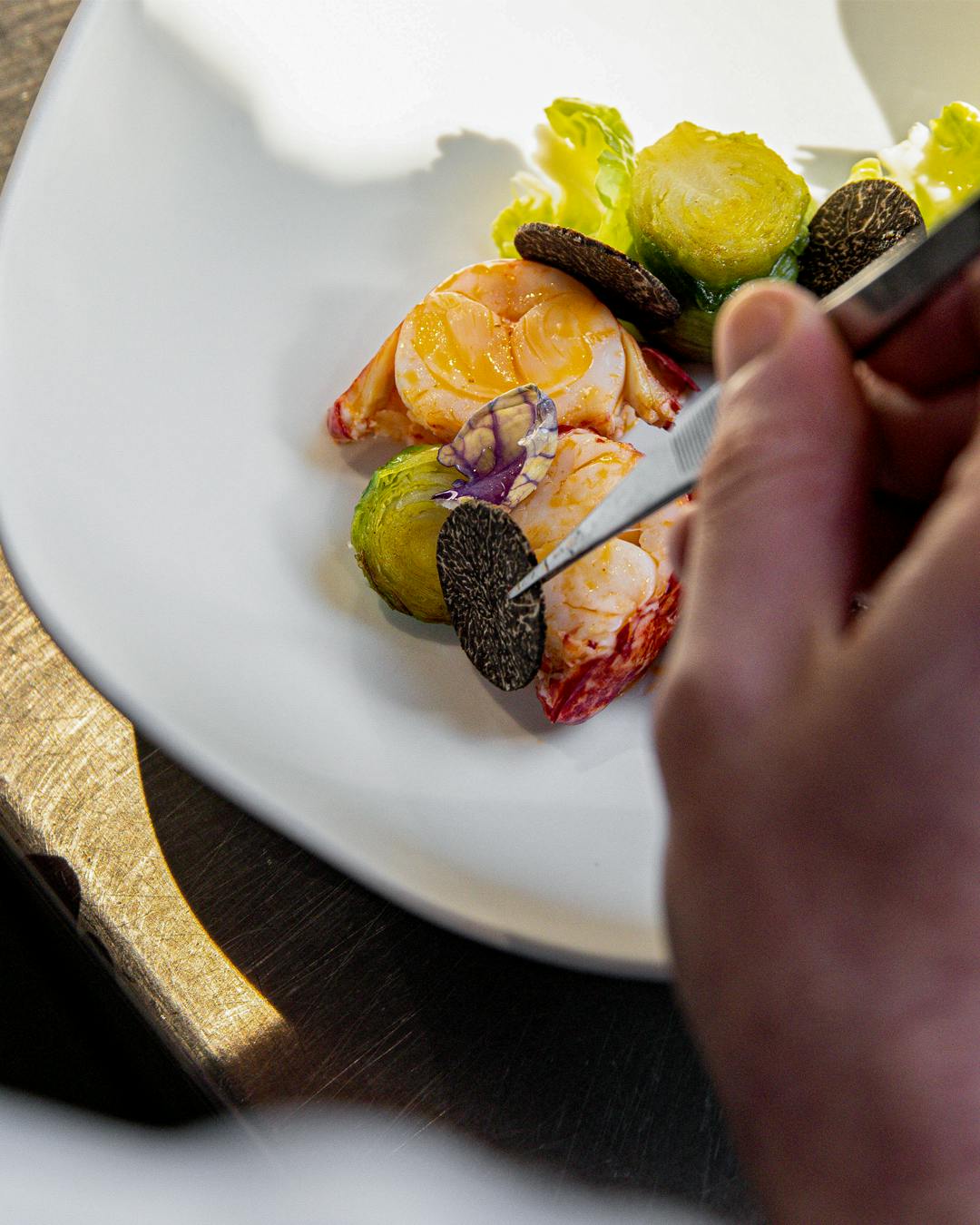 Garnish :
Peel and braise the chopped Brussels sprouts in a pan along with a chopped shallot and a good knob of butter.
Add some of the truffle after cooking and blend until smooth.
Dressing :
Tastefully decorate the bottom of a soup plate with a few dots of purée then add the coloured, previously blanched Brussels sprouts.
Finish with the lobster pieces and the emulsified sauce.
Discover l'Arbre
Gourmet restaurant
L'Arbre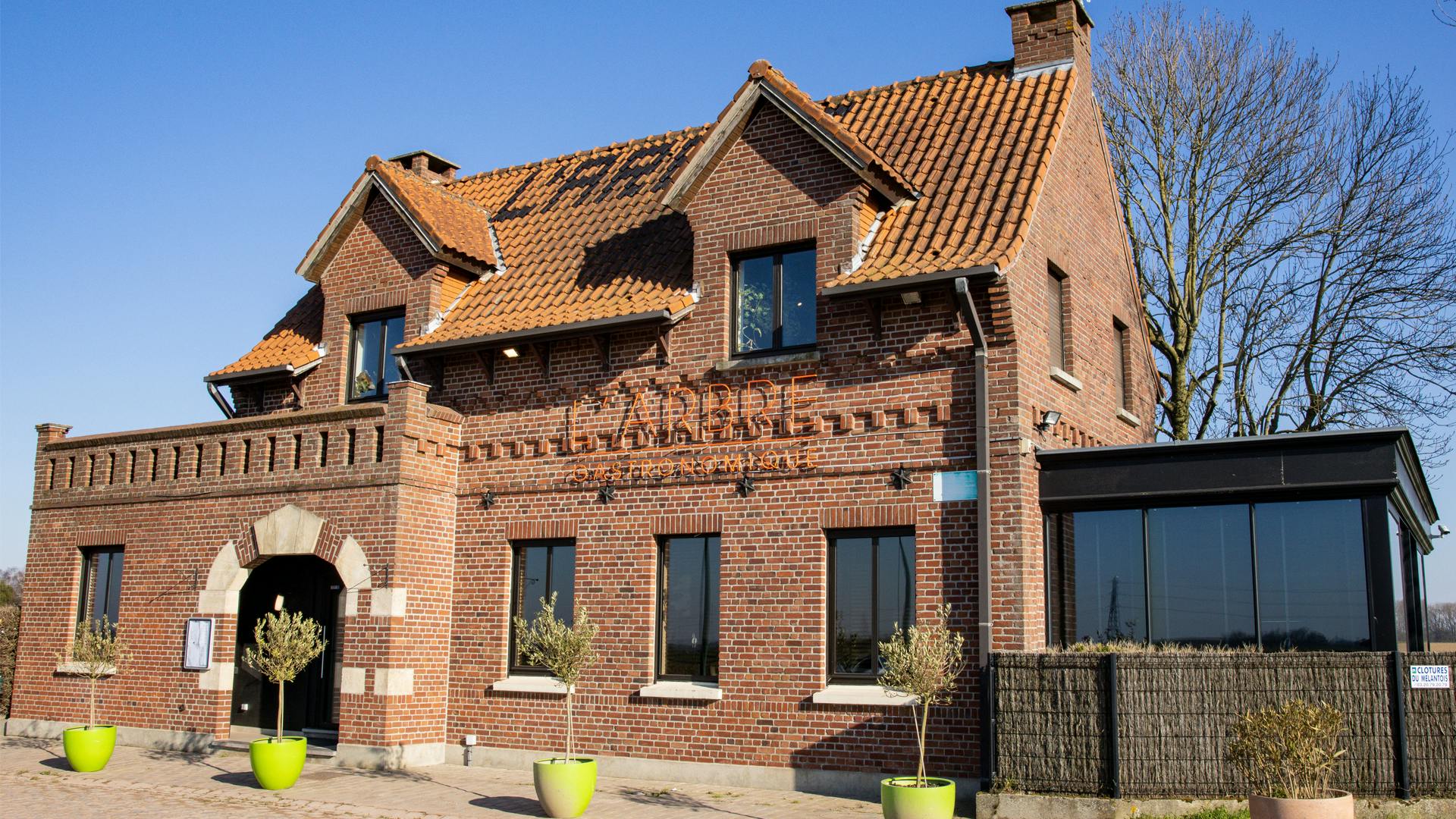 NF & Friends
Our champagnes
Discover the cuvées selected by Chef Saïd Ben Belkacem