Visits
Visit
Nicolas Feuillatte
discover
Anchored in the heart of the prestigious Côte des Blancs, the route of Champagne Nicolas Feuillatteinvites you to experience an extraordinary visit that is sure to create unique emotions.
Educational, poetic, sensory and immersive... Come and experience an enchanting visit at the Nicolas Feuillatte cellars!
We offer you an original visit in which we reveal all the stages in the making of Nicolas Feuillatte cuvées, from the winemaking process to the packaging of the bottles.
---
THE EXPERIENCE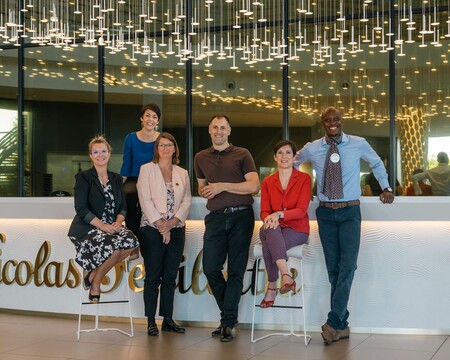 Our team
Our team of guides in Chouilly welcomes you as soon as you arrive at the Nicolas Feuillatte and accompany you throughout the visit and tasting. Our brand ambassadors ambassadors will share their expertise with you and will be at your service to help you discover our house our house, our vintages and our boutique.
Groups
Maximum group size of 20 people
Languages
Visits in French and in English
Spanish, Portuguese, Italian: please contact us
Duration
Approximately 1h30
Tasting
At the end of the visit, taste one to three vintages from our range, depending on the package booked
Adapted visit
Accessibility for people with reduced mobility via an escalator and a lift.
Shop
The Nicolas Feuillatte boutique in Chouilly offers a selection of champagnes, exclusivities, service accessories and gift ideas.
Freshness of the cellars
The temperature in the cellars is around 12 degrees, so don't forget to bring warm clothing.
Delivery
Worldwide delivery service for your Champagne
---
Our schedules
High season until 12/11/2023 Pets are not allowed on site.
Visits in French and in English
The timetable varies according to the day
Information
High season: from 01/04 to 12/11/2023
Open 7 days a week (except 1 May)
Spanish, Portuguese, Italian: please contact us
---
---
Reservation by e-mail or telephone
For special requests or group bookings, please contact us, we will be happy to help you
---
For your events
For special requests or group bookings, please contact us, we will be happy to help you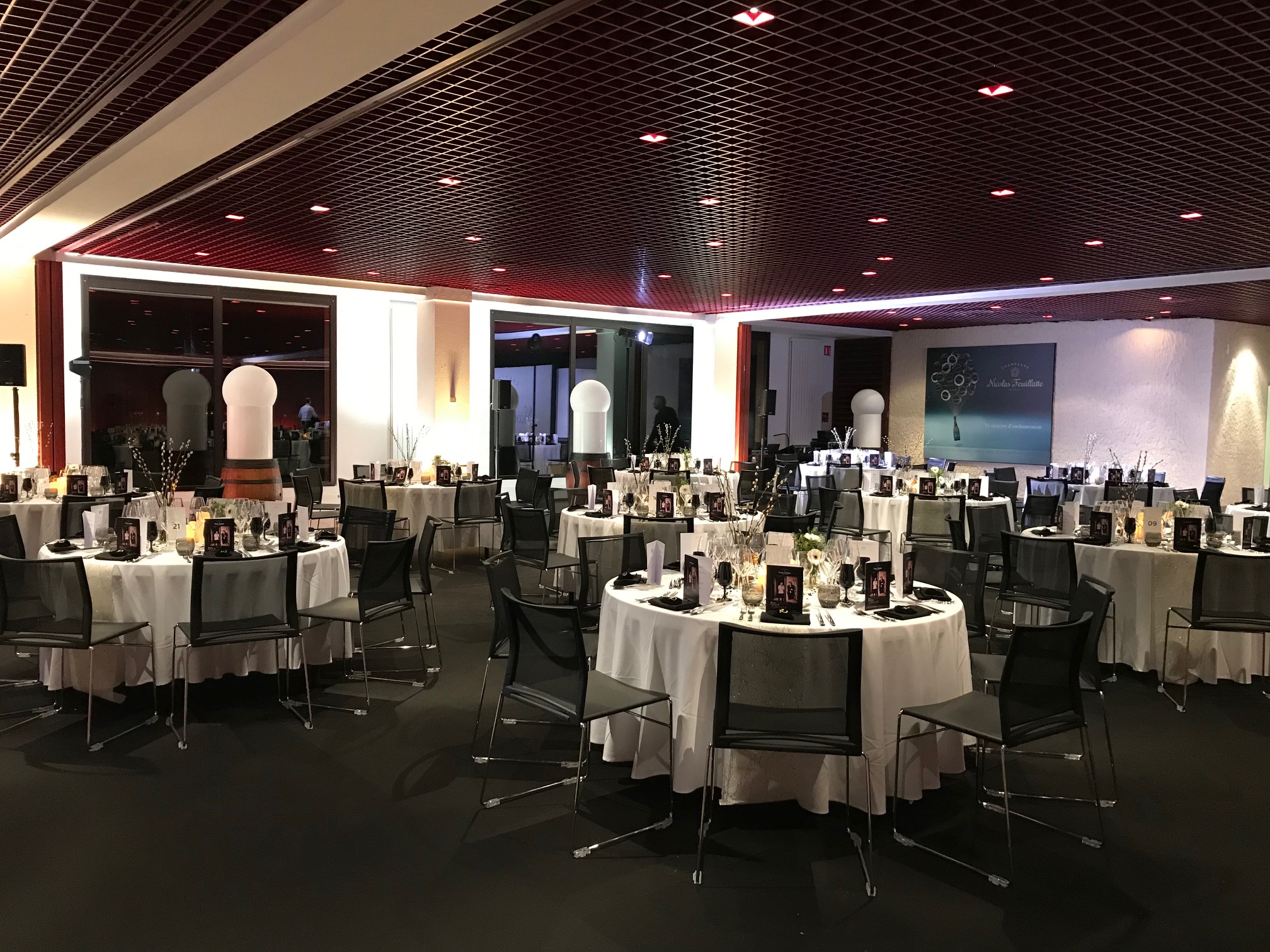 How to get there?
Champagne Nicolas Feuillatte
CD 40A
51530 Chouilly
See on Google Map
Any question?
For further information,
please contact us:
Tél. : +33 (0)3 26 59 64 61
service-visites@feuillatte.com
Reviews
Here are some reviews from other visitors, feel free to leave yours on the usual online review platforms
"Very nice discovery".
Complete visit with very clear explanations. A big thank you to MARIE, our guide, for her kindness. Very nice discovery of the blanc de noir champagne
"An exceptional place"
An exceptional place where you will discover the richness of the Champagne region and its men/women

Brigitte
Los Angeles, USA
"We'll come back again!".
Very nice place, beautiful front, very nice inside, pleasant staff and very interesting visit and above all very well explained, very happy, to do again
« Wow. »
Special visit... Wow... what a complex. modern, super clean... and our very competent and charming!
"Very nice place "
Very nice place - Very nice welcome and very interesting visit! This is the champagne I usually drink and I am and I'm all the more proud of it, because the brand belongs to the people of the land (cooperative) and not to a big financial group. Of course, the production is industrial (and fortunately because it is the 3rd largest producer in the world); but knowing that farmers and other craftsmen are the decision-makers decision-makers, it feels good! And then, it's so good !

JFetMarie
Tournemire, Larzac
"Wonderful memory".
Visit of the Nicolas Feuillatte site which groups together the elaboration and the shipping of the wines of this house. It is not a champagne cellar (because the site does not lend itself to it) but the initiatory course is very well organized and superbly commented by Ghislain (that day). It is better to visit during the week to enjoy the atmosphere (sound!) of the activity. As for the "caves", they are storage rooms that which reproduce the conditions of wine making (temperature and humidity). This visit completes those that can be made in other houses... in which we no longer see the areas of preparation and preparation and shipping of the bottles. At the end of the visit, tasting in the very large shop.

Cylvie19
Voutezac, Corrèze
"Thank you again for this visit."
The exterior is already superb ... The hall is in the continuity ... The welcome and the visit were perfect! Guided tour with a passionate guide who made us discover the world of champagne and especially that of Feuillatte. A tasting is proposed with a choice of two or three vintages, followed by a visit to the shop where the prices of the different articles (except champagne) are not really exaggerated. Again, thank you for this visit and for the warm welcome.
Shop
Nicolas Feuillatte Champagne Shop
The Nicolas Feuillatte space also offers you a boutique with our entire range our entire range and exclusive items to enjoy even more the Nicolas Feuillatte experience
HIGH SEASON :
from 1 April 2023 to 12 November 2023
Open 7 days a week (except 1 May)
from 9.30 a.m. to 12.30 p.m. and from 2 p.m. to 5.30 p.m.
LOW SEASON :
from 13 November 2023 to 31 March 2024
Open Monday to Friday excluding public holidays
from 10 a.m. to 12.30 p.m and from 2 p.m. to 5 p.m.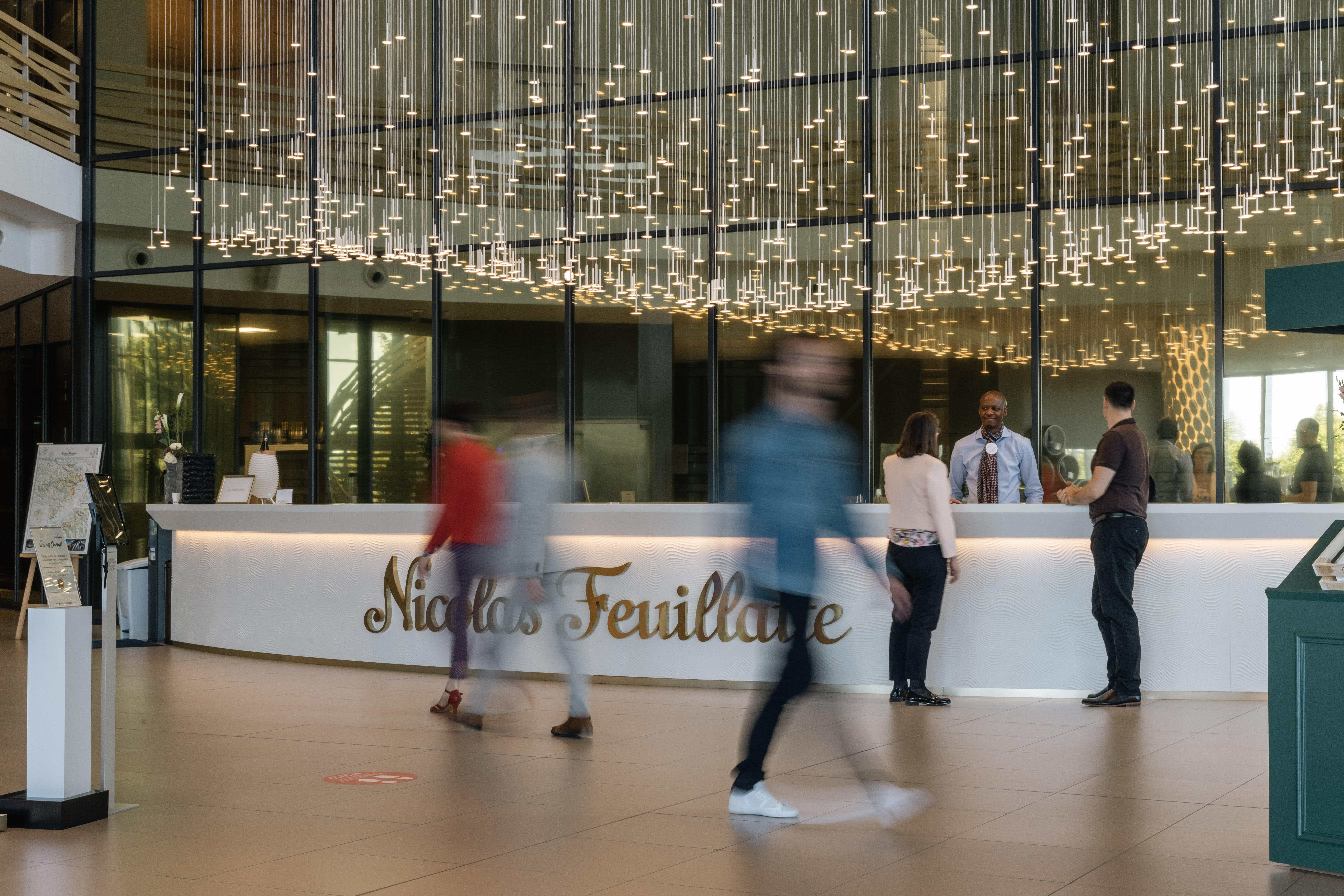 Champagnes
Our champagnes
an overview of the Champagne Nicolas Feuillatte cuvées found in the shop.
Visit us